One of the most frustrating subplots coming into this season is the "Buster Posey Rule." Now, on the surface, it's a noble and safe fix that is probably going to serve its purpose in extending careers. The problem is the implementation of the rule and the sheer clarity of what the rule is and the case could be made that the Indians got the bad end of it last night. Umpire Jordan Baker (the same umpire at the center of the craziness of last year's toss-Carrasco-the-ball-then-toss-him-out-game) ruled that Blue Jays catcher Josh Thole gave Carlos Santana enough plate to work with. Hat-tip to to The Plain Dealer's Dennis Manoloff for capturing this shot.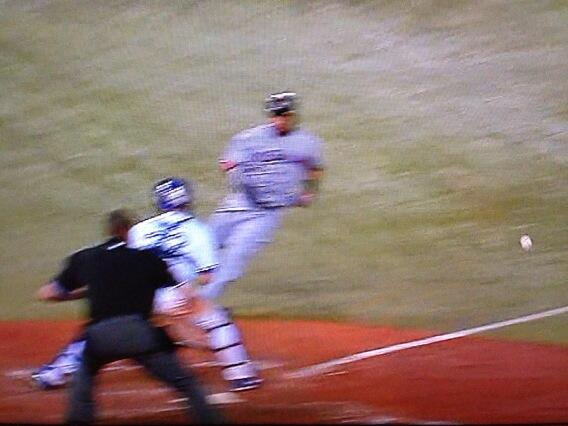 Looks pretty conclusive here. Until you see the video.
At best, Thole moves into foul territory at the absolute last millisecond that determines blocking the plate, or, in Baker's ultimate ruling, not. Santana said that he moved out of his path because Yan Gomes' bat being in the line away from the path that Thole was allowing.
I guess. It's clear that no one understands the rule. I sure don't. And I guess it wasn't a play that was able to be challenged, because even if you lose it, it's worth trying at that point.
For one night at least, we're left wishing that it was like the old days. Or even last year. In 2013, it's a great play with no beef. Today, it's a great play with a ton of grey clouding it.